Imagine that you are creating an app choke-full of recipes for cooking great Italian cuisine. It's a great idea as there is definitely a demand for such an app. But how will you create buzz around this? How will you convince your audience to download the app? 
A landing page, simply put is the homepage of your app and serves as a central hub for its information. The content of such a landing page depends largely on the stage of the app development. This is a fantastic method of building a fanbase around it even before its launch. It is also the end page customers will be arriving to as a result of your marketing activities. Thus it will prompt those leads to click on your call to action to download the app one its launched.
What elements should a landing page contain?
The landing page doesn't have any hard of fast rules about its content. However, below are a few elements that we think are important for any user to gauge an apps suitability. Note that per the product that is under development and the end-users it is aimed at, the order of such elements may differ.
The headline – this has to be simple, concise and resonate with the needs your app will solve. This is where you must highlight your unique selling proposition.
The hero shot

 – humans respond well to visuals and less to text, which is why your landing page should display images. For instance, images of your app and the context of use.

The benefits

 – the users who were attracted by your headline and the imagery needs further convincing. They should be met with further information on your app and the features it offers.

Proof

 – most app users are followers and look for reassurance from previous consumers on how they found the app. Inserting some reviews from how users have found your app can provide some compelling social proof. This proof will lead to downloading for those who visit your landing page.

The call to action (CTA)

 – the most important of all the elements. CTA is the text or button that leads the user to a certain action. This may be downloading the app, subscribing to an email newsletter or taking a survey. The click made on this CTA is the end goal of the rest of the elements of the landing page. This is a very good measure of success.
An example of a great landing page from Invision
Why should your app have a landing page?
It helps to showcase your app –  a dedicated landing page is a fantastic platform to showcase the story behind the app's creation and build awareness about it. 

Such a platform where you can elaborate on the app is very important as the app marketplace today is very crowded. Awareness of this landing page must be gained via search engine optimisations. For instance public relations, social media marketing and other marketing means before being prompted to take the call to action.

 

It demonstrates the app's functions

– the App/Play Store provides very little space for providing information about an app. It isn't

big enough

to convince a user to make the tap on the download button

.

Applications dedicated lading page, however, provides this space and can be utilized to show pictures of the apps working.

We at Mood Up recommend supplementing these pictures with videos as well. Those are a quick and easy method of receiving new information.

It serves as a hub of information

 – the landing page you created is a great portal of communication to serve information on where the app is. Whether it be in the design, development or deployment. Such a platform will serve as the central hub of information for your end-users. Also, it will drum up excitement as the app launch date is getting closer.

You can recruit beta testers –

 a landing page lets you reach out to individuals who have shown interest in the app. You can recruit them as beta testers prior to its deployment to the general public. Such beta testers will prove invaluable in the development of the app. They can be very helpful in usability testing (usually an expensive process) to ensure that the app is kept user-centric.

Helps to refine marketing messages 

– having a landing page for your app would allow you to test and refine your marketing messages and app microcopy. Doing so using AB testing is very important. The messages and overall content that you use should match and resonate with the end-users you are targeting.

Lends credibility

– a dedicated landing page for an app lends credibility to the app. It's a huge persuading factor for a user who might be torn between downloading your app and not

downloading it

.

Think about it, would you download an app you haven't heard about? If there was no website or mention of it upon a quick Google search?
What not to include in a landing page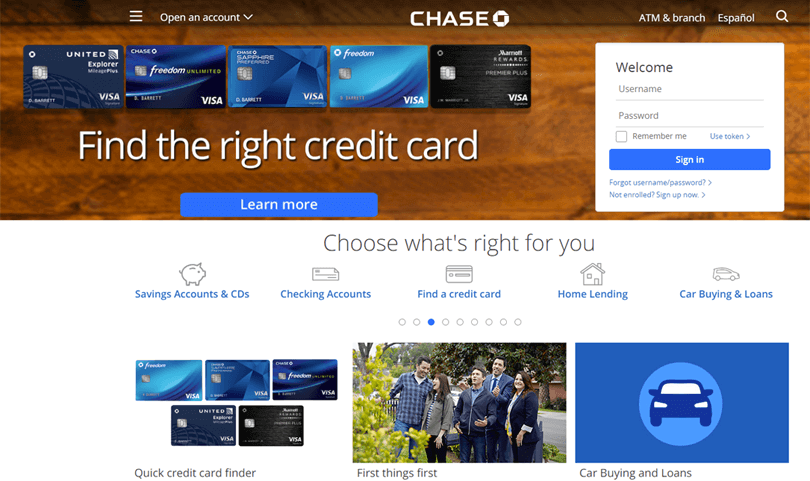 An example of a not so great landing page from Chase
Too many details – your app landing page's primary purpose is to inform, convince and persuade your visitors to take a certain action. Whether it be downloading the app, taking a survey or subscribing to an email newsletter. Allowing landing page to contain too much information, that is meant to guide a visitor to a certain outcome is distracting. Thus it may lead you to loss of visitors who would otherwise convert.
Lengthy videos – videos are a great resource for any app landing page, provided they are not too long and boring. Make sure your video leaps straight to the action is well optimised for slow internet connections. 
Links, links and more links – the more outbound links you have on a landing page, the more opportunities you give your hard-earned visitors to escape the landing page. Some links are important, but make sure not to confuse the visitor as the only purpose of a landing page is to guide the user to a specific action. 
Cumbersome forms – landing pages as we mentioned previously is very useful for collecting email subscribers that can be communicated to. Do, however, remember that such forms have to be simple and only gather purpose-specific data that is required. Remember, you don't want to frustrate your visitors, so make sure to run some usability tests on the forms.
Unnecessary elements – most companies tend to create their landing pages to match their website elements, and this is a disastrous tactic as it provides the users with many avenues to explore and not move towards the desired action of the landing page. 
Conclusion
As you can see, the landing page is a boon and not burden as some make it out to be. Having such a landing page for an app will lend you credibility. It will also create a space for showcasing the app and can be useful for soliciting feedback from visitors. Do, however, remember to pay careful attention to the development of such a landing page with A/B and usability testing to reap its full benefits.